This is the Money VS Meaning Matrix I created to help myself make decisions regarding which projects that I take on. I've also found this matrix to be incredibly helpful when I'm working with consulting clients—particularly those who are working with me in my Platinum Mastermind Group.
The Money VS Meaning Matrix—in a nutshell:
Quadrant 1: This is where you make a lot of money, but the work is not really meaningful to you. You're happy you're prospering, sure, but you find you burn out easily (and/or get bored), and you wish you were getting more deep satisfaction out of your work/life. From the outside looking in, it would appear that you've got it all, but on the inside, there is definitely something missing. You long to use your talents and passions to make a meaningful contribution in your industry (or another one all together), but unfortunately, you're just too busy making money.
Quadrant: 2: In quadrant 2, you're making money while simultaneously experiencing real satisfaction from the meaningful work in which you're engaged. You're happy to be living a comfortable and sustainable lifestyle, you're fulfilled by your work, AND you're deeply satisfied by the contribution you're making in your industry/the world. Quadrant 2, my friends, is the sweet spot.
Quadrant 3: This is where you seem to constantly be struggling to make ends meet. The income just doesn't ever seem to be enough for you to experience real, sustainable financial security—let alone ever get ahead. Furthermore, the work you're doing seems meaningless. You may feel trapped, and you definitely find yourself wishing that things were very different. At times, you may even feel hopeless. You find yourself desperately waiting for a) circumstances to magically change or b) for an opportunity to come along for you to do something different.
Quadrant 4: This is where the work you're doing is fulfilling and making a meaningful difference. You love what you do. The work fuels and excites you. But as it stands, the work is simply not making enough money to be sustainable.  You may find yourself resenting money, overwhelmed and/or discouraged by the need to bring in consistent cash flow, when all you really want to do is make a difference in the world. You would give anything to be able to stop worrying about when/where/or how the next paycheck will arrive and wether or not it will be enough to keep things afloat. Meaningful work is great, but if you're in Quadrant 4 and it's not profitable, you likely feel a considerable amount of inner conflict or "mission drift," because no matter how meaningful the work you're doing actually is, you still have to be able to pay the bills.
So, where do you fit in?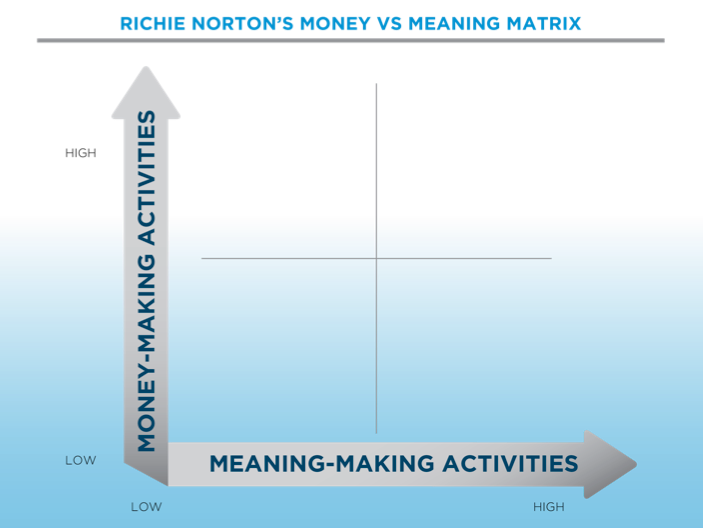 Plot your current situation, then ask yourself these questions:
1. Why am I here?
2. How can I move from where I am to where I want to be?
3. Am I willing to make the sacrifice to get there (or stay there)?
4. What one thing can I do today to move myself closer to Quadrant 2?
How I can help you get there
I'm looking for 25 people who want to be making 6 to 7 figures this year…and who want to turn their expertise into an offering that creates a steady stream of the perfect high-paying clients in 60 days or less. I'm looking for people who want to be in Quadrant 2 (the sweet spot) or who are already in Quadrant 2 and would like to scale and streamline their business
If you're a coach, photographer, entrepreneur, lawyer, therapist, designer, creative, author, speaker, trainer or anyone with a product or service to sell, etc — someone with expertise in your craft — this offer is meant for you.
Here's the deal: I'm offering FREE one-on-one, 45-min, strategy sessions to 25 people who fit the criteria.
This offer is for action-takers, goal-setters and go getters–who are excited for and committed to, getting real results in 2015. This offer is not for people who are interested in twiddling their thumbs and waiting for life to wend its way by. If you are ready to generate real success in business and life this year, I'd love to hear from you!
Are you up to the challenge? Together, we will change your business for good at light speed.
This opportunity is for you IF:
You're an expert, author, speaker, coach, trainer, photographer, entrepreneur, agent, lawyer, creative, therapist or have a product or service to sell and make meaning.
You're willing and committed to implement the strategies you'll learn.
You're serious and committed to making $100k or more before the end of 2015.
>>>APPLY FOR A FREE STRATEGY CALL BY CLICKING RIGHT HERE<<<
Keep making waves!
Aloha,
Richie
P.S. You can do this.
P.P.S. Here's that link again. Go here: http://bit.ly/strategizewithrichie
2 Comments
post a comment